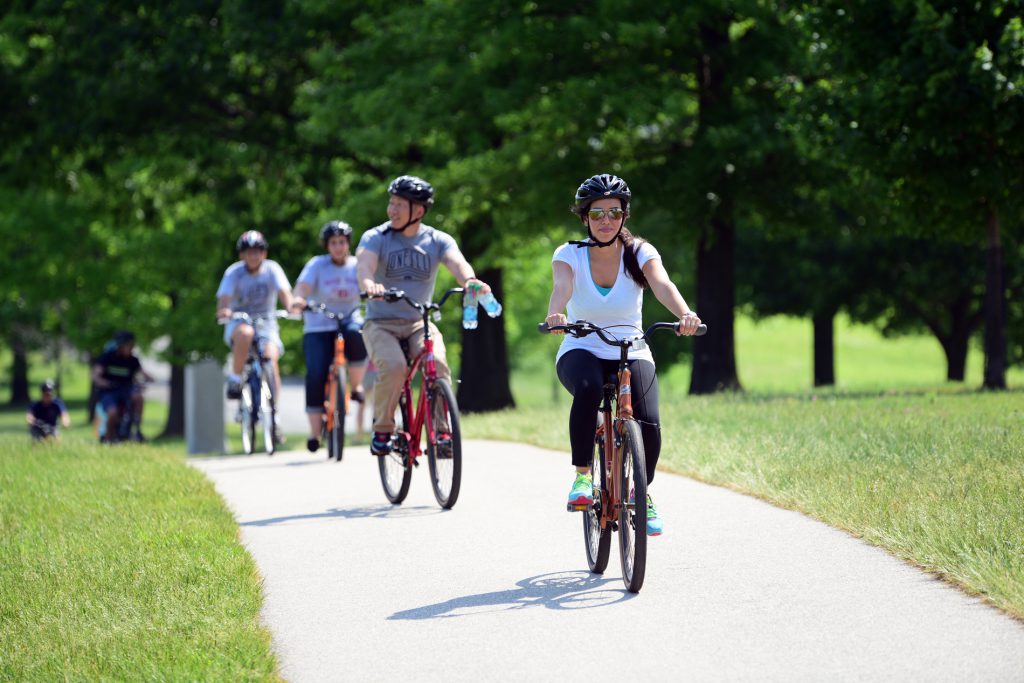 Our bike rentals are closed for the 2020 season. We will still be offering bike tours by request through the end of 2020; please call (610) 551-7870 for more information. We would like to extend a huge thank you to everyone who rented our bikes this season, and we look forward to welcoming you back to our bike rental in the Spring of 2021. Be safe, and have a wonderful fall and winter!
Pedal the Park and enjoy miles of beautiful trails!
Bike rental includes helmet and bike lock. Our bike rental stand is located in the main visitor parking lot at the Visitor Center.  Guests must sign acknowledgement of risk prior to renting bike. For more information please call 610-624-5010 or email info@encampmentstore.org.
2021 Bike Rental Fees
(fees do not include  sales tax)
Adult Breezer Bikes:$17 up to 2 hours / $30 for 2- 4 hours/ $50 all day*
Adult Performance Bikes: $22 up to 2 hours / $35 for 2-4 hours/ $50 all day*
Child Bikes and Trailers: $10 up to 2 hours / $17 for 2- 4 hours/ $50 all day*
*Limited bikes available for all day rental, first come first serve
---
Explore the history with a private tour guide!
The Encampment Store's fun and knowledgeable tour guides will lead your group on a bicycle tour past beautiful forests and meadows (and a couple small hills!) while sharing the history of the Valley Forge Encampment.
Private guides are available with advanced reservation for any day that the bike rental is open or for groups of 10+ (guides can also be available any day for groups that bring their own bikes).  Tours can be scheduled as two hours / five miles in length or three hours / seven miles in length and make stops at the Muhlenberg Brigade hut site, National Memorial Arch, Artillery Park and the Grand Parade (three hour tour adds Washington's Headquarters). Tours depart from the bike rental stand.
Private Bicycle Tour Rates:
As of November 9, 2020, all bicycle tour participants must have their own bike as our rentals are closed until Spring 2021. The rates below still apply without the rental fees attached. We practice social distancing during our programs and ask participants to wear masks for the duration of their tour.    
Rates include bicycle and helmet rentals.
Two hour tour:
Under 10 people: $30 per person (four person minimum charge)
10+ People: $150 + $15 per bike rental
Three hour tour:
Under 10 people: $45 per person (four person minimum charge)
10+ People: $200 + $25 per bike rental
For more details or questions, please contact us.