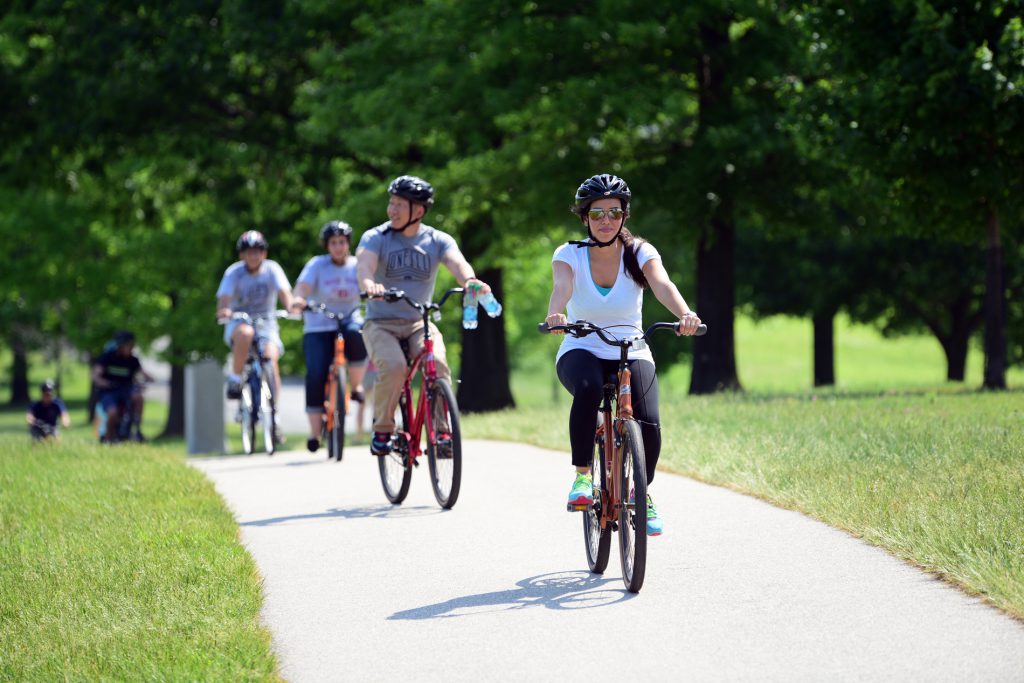 Pedal the Park and enjoy miles of beautiful trails!
Bike rental includes helmet and bike lock. Our bike rental stand is located in the main visitor parking lot at the Visitor Center.  Guests must sign acknowledgement of risk prior to renting bike, as well as leave some form of collateral with our employees. For more information please call our rental desk directly at (610) 551-7870. If you are unable to get through, please contact our gift shop at (610) 624-5010. Please note that our bike rentals are weather dependent; we take the safety of visitors and staff into heavy consideration when contemplating closures. In addition, our bike rentals must remain within park boundaries.
2023 Rental Season
May 20-June 11, 2023: Weekends Only bike rentals (pedal bikes only)
May 29, 2023: Memorial Day bike rentals (pedal bikes only)
June 16*-August 26, September 1 and 4: Daily bike rentals (pedal bikes & e-bikes, weather permitting)
September 2-October 29, 2023: Weekends Only bike rentals (pedal bikes & e-bikes)
October 9, 2023: Indigenous Peoples' Day / Columbus Day bike rentals (pedal bikes & e-bikes)
Bike Rental Hours
Regular hours
9:00am-3:00pm
Final returns: 5:00pm
Bike Rental Fees
(fees do not include sales tax)
Adult Breezer/Pedal Bikes: $17 up to 2 hours / $30 for 2- 4 hours*
Lectric E-Bikes: $22 up to 2 hours / $30 for 3 hours/ $40 for 4 hours*
Child Bikes and Trailers: $10 up to 2 hours / $17 for 2- 4 hours*
*Limited bikes available for all day rental, first come first serve
---
Explore the history with a private tour guide!
The Encampment Store's fun and knowledgeable tour guides will lead your group on a bicycle tour past beautiful forests and meadows (and a couple small hills!) while sharing the history of the Valley Forge Encampment.
Private guides are available with advanced reservations for any day that the bike rental is open (guides can also be available any day for groups that bring their own bikes). Reservations must be placed at least one week prior to your desired tour date. Tours depart from the bike rental stand.
2-hour Bike Tour (5-miles)
Your guide will join your group on a 5-mile bike ride of Valley Forge Park, providing interpretation at each tour stop including:
Muhlenberg's Brigade (20-30 minutes): The site where several regiments from predominantly Virginia stayed during the Valley Forge Encampment. Explore several reconstructed soldiers' huts built to Washington's specifications and learn about what life was like for members of the Army on the ground level. If time allows, groups may also explore the reconstructed redoubt to visualize the kind of fortifications the Army built during the Encampment. Please note, the area is grassy and walkways are gravel if visitors have limited mobility. The drop-off point to the huts is approximately 40 feet. 
 National Memorial Arch  (10 minutes): Dedicated 1917, the National Memorial Arch was commissioned by Congress and commemorates the hard-won victories off the battlefield during the American Revolution. The Arch symbolizes the importance of overcoming obstacles like disease, supply crises, political discord, public division and the individual struggles everyone touched by war faces, not just during the Valley Forge Encampment but every day for 8 years, in garnering American independence. 
 Grand Parade Ground (20 minutes):  The site of where Baron Friedrich von Steuben began retraining Washington's troops and formed the foundation of the United States' Army. 
3-hour Bike Tour (7-miles)
The three-hour bike tour covers everything in the 2-hour tour, but also includes a stop at the following:
Washington's Headquarters (30 minutes): The original building George and Martha Washington, Alexander Hamilton, and the rest of Washington's "military family" stayed during the Valley Forge Winter Encampment. Visitors may walk through Headquarters March through November, off-season tours December-February may explore the grounds surrounding the building but the structure itself will be closed to visitation. The area also includes the Valley Forge train station with a small exhibit covering Washington at Valley Forge, the Carriage House that features artifacts from the forges "Valley Forge" was named for, and a replica of George Washington, the famous sculpture of Washington by the renowned French sculptor Jean-Antoine Houdon. 
Private Bicycle Tour Rates:
Rates are for visitors who wish to tour the Park on their own bikes. We are not offering tour rentals until further notice.
Two hour tour:
Under 10 people: $25 per person (starts at $100)
10+ People (maximum group 25): $40 per person
Three hour tour:
Under 10 people: $35 per person (minimum $140)
10+ People (maximum group 25): $45 per person
For more details or questions, please contact us at (610) 624-5010.