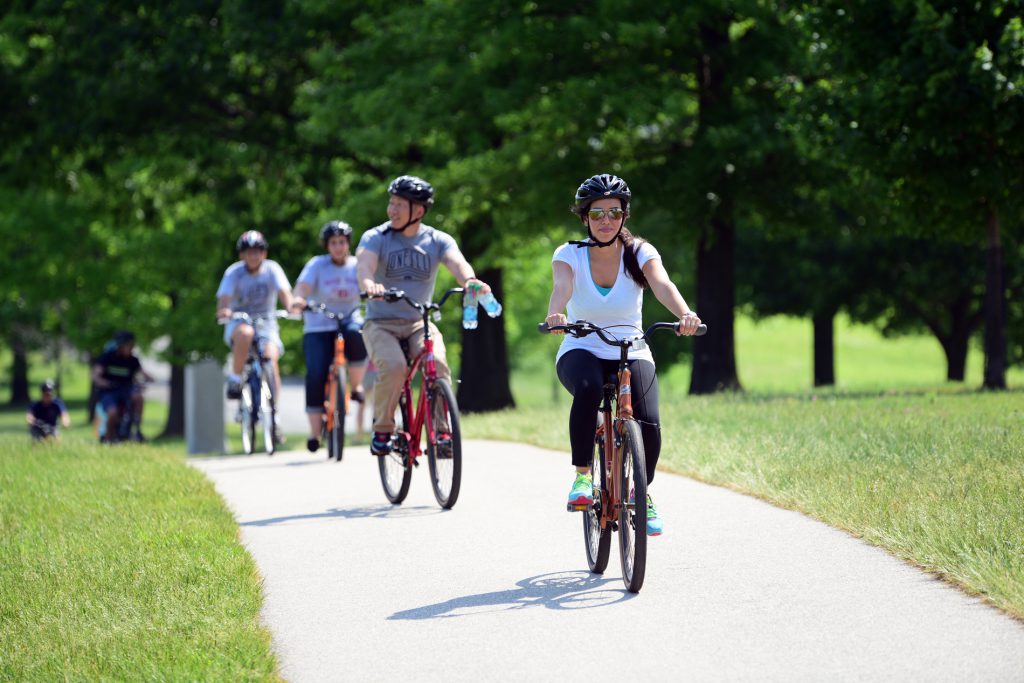 Pedal the Park and enjoy miles of beautiful trails!
Bike rental includes helmet and bike lock. Our bike rental stand is located in the main visitor parking lot at the Visitor Center.  Guests must sign acknowledgement of risk prior to renting bike. For more information please call 610-783-1074 or email info@encampmentstore.org.
Bike Rental Fees
Adult Bikes:$15 up to 2 hours / $25 for the day
Adult Performance Bikes: $20 up to 2 hours / $30 for the day
Child Bikes:$10 up to 2 hours / $15 for the day
2017 BIKE RENTAL SCHEDULE

May 27 – 29
Memorial Day Weekend
9 am – 5 pm
June 3 – September 1
Weekdays
9 am – 5 pm
June 3 – September 4
Saturdays, Sundays & Labor Day
9 am – 6 pm
September 9 – October 29
Saturdays and Sundays
9 am – 5 pm
*Groups of ten or more are encouraged to contact us about bike rentals during our off-season.
---
Explore the history with a tour guide!
The Encampment Store's tour guides will lead your group on a bicycle tour past beautiful forests and meadows (and a couple small hills!) while learning about the Valley Forge encampment. Bring your own bicycles or rent them when you arrive for your tour (bike rentals available seasonally).
Every Saturday, May 27 through September 2 (as well as 5/28 and 5/29), bike tours will be offered at 10:30 am, weather permitting. Tours are two hours / five miles in length and make stops at the Muhlenberg Brigade hut site, National Memorial Arch, Artillery Park and the Grand Parade. Tours depart from the bike rental stand.
Bicycle Tour Rates:
Bike tours are $25 per adult, $15 per student ages 12 – 17, bike rental included ($17.50 per adult and $10 per student if you bring your own bike). Minimum age is 12 and participants must wear a helmet and closed toe shoes. Please call 610-783-1074 for reservations or more information.
Private bike tours are available for groups throughout the year. For details and pricing information, please contact us.